Angle Tripod Support
(Aluminum Or Hot-dip galvanized)
--System Compatibility
Components mostly are preassembled in factory to assure quick and reliable installation on site.
Suitable for different flat rooftop, and compatible to different types of solar modules.
--Unique Mudsill Design
The mudsill can be fixed to flat roof or pitched roof with concrete foundation or steel foundation.
---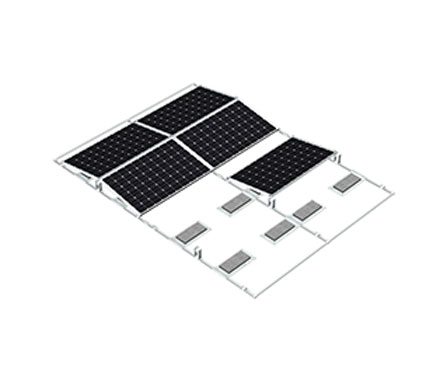 Ballasted Matrix
(Aluminum Or Hot-dip galvanized)

--High Durability Ensure the Structure Strength
Professional structure design and high-density aluminum material ensure the stability and strength of the structure.
--Unique Matrix Design for your solar PV system
The matrix design further assures the stability of the whole system,and flexibly compatible with concrete block or ballast foundation.
--Reasonable Installation and Package Design
Simplified components configuration lead to quicker installation and smaller package size,
saving installation cost and freight.
---
Component List
Rail: Spec:43*50*L. 3100/4100/5100mm
Splice for Rail: Length:260mm,Hexa Self-Tapping Screw,ST6.3*19
End Clamp Kit: End Clamp,Cross Module,Spring Washer M8,Hex Socket Head Bolt
Inter Clamp Kit: Inter Clamp,Cross Module,Spring Washer M8,Hex Socket Head Bolt
C Clamp Kit: C Clamp,Cross Module,Spring Washer M8,Hex Socket Head Bolt
Angle Aluminum Tripod Support: Single Tripod, Double Tripod,Adjustable Tripod
Beam, Back Support, Inclined Support: Q235B(Hot-dip galvanized)
Beam Connector: Spec:L200, Q235B(Hot-dip galvanized)
Front Support, Back Support: Spec L60, Al6005-T5 (anodized)
Wind Deflectors: Flat washer M8,Spring washer M8,MHexagon Socket Head Bolt

---

Flat Roof Mountings System Meet Certifications:
Certified by TUV, SGS and qualified consultants in AU, JP, ASEAN, CN, UK, EU, US