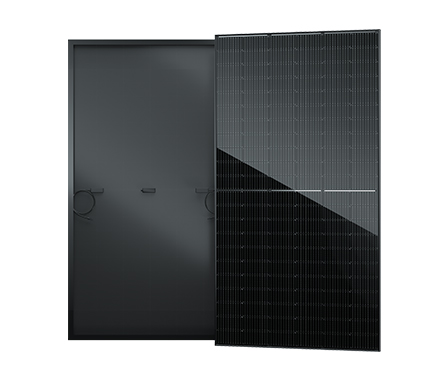 HiMAX5 Solar Panel
The maximum power of Sunpal all-black mono solar panel is up to 485 watts, which are all-black modules with appearance and high power. The surface morphology of the cell is improved, and the spectral response of the cell in the entire broadband is effectively improved, and the deviation of the reflection angle of the black silicon to the light is also greatly reduced. It helps to absorb glancing incident light. Sunpal has a stronger weak light performance in the morning, dusk, cloudy and other conditions of insufficient light or non-right angle illumination.
---
Half-cut cell technology
The half cell solar panel is obtained by cutting the standard battery in series, which can reduce the power loss. It is the most efficient solar panel technology that is easy to achieve mass production and has high cost performance. Multi-main gate technology can reduce the shading area and reduce the resistance loss, and improve the power output of the solar panel.
---

HiMAX5 solar panel meet certifications:
IEC 61215, IEC 61730, UL 61730
ISO 9001:2008: ISO Quality Management System
ISO 14001: 2004: ISO Environment Management System
OHSAS 18001: 2007 Occupational Health and Safety
---
HiMAX5 solar panel featureas:
Positive power tolerance (0~+5W) guaranteed High module conversion efficiency (up to 21.3%)
Slower power degradation enabled by Low LID Mono PERC technology: first year <2%, 0.55% year 2-25
Solid PID resistance ensured by solar cell process optimization and careful module BOM selection
Reduced resistive loss with lower operating current
Higher energy yield with lower operating temperature
Reduced hot spot risk with optimized electrical design and lower operating current